The river Statte
Jalhay, Solwaster
Introduction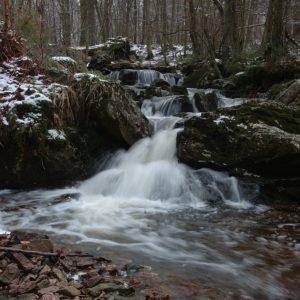 The river Statte is one of the most beautiful rivers originating at Wihonfagne on the High Fens (Hautes Fagnes) at 580m altitude. The "rock of Bilisse", is a perpendicular rock of almost 50m height. A crack in the rock is the result of upward movements and folds in the crust of the earth, which typify the geological past of this region.
Farther upstream, after passing by the "Cascade des Nutons" (cascade of the trolls), and after crossing the forest road, a pine forest is reached where the surface of the soil is covered by rocks, called "pierrier". The "perrier" is the result of gelifluction (freezing and thawing of the soil that brings sub-surface rocks to the surface) during the end of the glacial period, about 15,000 years ago.
Historians and geologists have determined that the monolith (giant stone) arrived as an erratic, transported by glaciers during the periglacial climate. Evidence of ancient civilizations is abundant in the region and the monolith may have been used by these ancient civilizations. There are many legends about this river.
You can download Trail 57 on this website to explore the valley of the Statte.
Photo gallery
Address
The river Statte
Solwaster 148, 4845 Jalhay, Belgique