The river Sawe
Jalhay, Solwaster
Introduction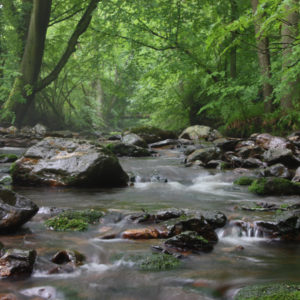 This rapidly flowing river originates at 600m altitude in the "Grande Fange" (high moors) of Jalhay, in the heart of the nature reserve "Hautes Fagnes" (the High Fens). After following the trail for about 6km, with impressive cascades and a total drop of about 280m, the Sawe joins the Statte in Parfondbois, just north of Solwaster and prior to its confluence with the Hoëgne at the edge of the forest of Roslin.
After a storm, or at the end of the winter, the Sawe competes with the Hoëgne honouring its name as «chaotic and gurgling», which are the sounds of clashing water that runs down between the rocks. A series of bridges cross the stream: the bridge of the Hermitage (l'ermitage) and its "Pîre à l'makrale" (stone of a witch). Further on, the cross of Dethioux, which reminds us of the unfortunate death of a forest guard. Several more bridges follow: the bridge Dethioux, the very elegant bridge the l'Atche (Arc bridge), where the river is rushing wildly during periods of heavy rain, the bridge of "Vèleye Rotche" (the «rolled over rock ») situated on slate and eventually the bridge at a beautiful waterfall; the so called "bathing resort of Diane". It is named after a dog of the farm "la belle Bruyere" (situated upstream), that probably wanted to join his master after it was shot by a hunter.
The walk consists of meadows, rivers and forests and is very varied. One can find deer and an occasional wild cat. The vegetation is special. You can download trail  56 on this website to explore this valley.
Photo gallery
Address
The river Sawe
Gospinal, 4845 Jalhay, Belgique