The Gileppe Dam
Sports and leisures
Introduction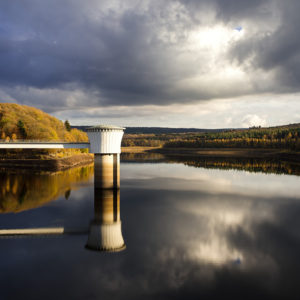 This work of art, made from granite was the first of its kind in Belgium. The dam was built between 1867 and 1875. Between 1967 and 1971, it was consolidated and increased the capacity of the reservoir to 26.4 million m³ of water. The lake is fed by the Gileppe, the Haneen and the Soor. Two 75m high reception towers lead the water to turbines. The entire complex is dominated by a 77,6m high Panorama tower with elevator.
The complex of Gileppe features two iconic figures, the Panorama Tower and the majestic lion that attracts more and more visitors every year.
The tower, on the fully glazed top floor (level 2), is accessible by an elevator and offers an unforgettable view of the lake and the surrounding area. This level also offers access to a restaurant. At the foot of the Tower (level 0) is a permanent exhibition of the history of the dam and the economic necessity of construction in 1875. The famous lion, made by Félix-Antoine Bouré, is the other major attraction. Height: 13, 5m – weight: 130 tonnes. 183 blocks that fit together like a puzzle were completely dismantled and rebuilt to mark the elevation of the dam. After completing this work, the dam was opened on 20th October 1971 by King Baudouin.
In addition to these two major attractions, the complex also offers other activities such as: hiking, mountain biking (bicycle rental possible on site) a climbing park and a nature path. A visit to the dam by groups is also possible, (on request only!)
To discover the lake, you can follow rail 44 (marked by the green rectangle) on foot or by mountain bike.
See also the section walks on this website!
Your opinion
Back
Address
The Gileppe Dam
Route du Barrage 55a
4845 JALHAY

Tél. : +32 (0) 087/75 56 87
info@gileppe.com
Website