The valley of the Hoëgne
Sart, Jalhay, Solwaster
Introduction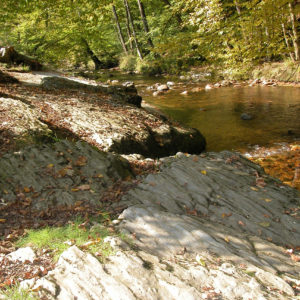 The Hoëgne, tributary of the Vesdre, is without a doubt the most famous river that originates on the plateau in the heart of the natural park High Fens. The Hoëgne, also known as "Polleur", originates at 660m altitude close to Baraque Michel. Before it winds down across the moors, the descent abruptly steepens at the small bridge of Centenaire and changes in a fast flowing stream until Belleheid at 380m altitude.
Several centuries ago the Hoëgne played an important role in iron extraction, for which the Marquisate of Franchimont was well-known.
The valley of the Hoëgne is botanically rich in mosses and ferns. This part of the valley is crossed on the southwest slope by the Spa – Trois-Ponts railroad, which was closed in 1970 and converted into a rail trail, also called Pré-ravel.
Léonard Legras, who lived at Sart, was one of the main trail promoters in the valley of the Hoëgne at the beginning of the 19th century. In 1899, Queen Marie Henriette unveiled a memorial plaque for Léonard Legras near the King Leopold II cascade.
The brochure of trail 55 to explore this beautiful valley can be downloaded from our website.
Photo gallery
Address
The valley of the Hoëgne
Roquez 49, 4845 Jalhay, Belgique