The Chapel Saint Apolline
Sart
Introduction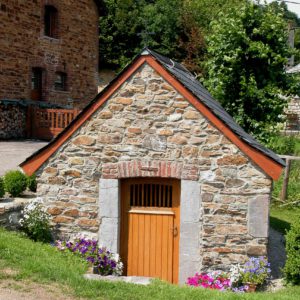 This small private chapel built of gray stone, has a footprint of only 14m². The nave ends up with a small carved choir with a three-sided closure. This Chapel houses a large statue of the Virgin and child. In 1980, two wooden polychrome statues were stolen.
A wooden frame with a portrait on canvas of Saint Apolline is hanging on the wall (one can pray to him to sooth toothaches).  On the altar is a wooden statue of Saint Apolline, created by Josy Moureau (sculpted from a branch of the old oak tree, next to the church of Sart)
Saint Firmin was also called upon for help with skin diseases; his image was created by Alberto Guidolin.
Religious processions were also held. The chapel was often visited by mothers with children. If somebody died, the villagers were summoned to the Chapel by a bell in the evening and recited the Rosary for nine evenings to follow. The chapel was restored in 2004 by volunteers of Sart.
Photo gallery
Map
The Chapel Saint Apolline
Address
The Chapel Saint Apolline
Wayai, Jalhay, Belgique