The dam and lake Gileppe
Jalhay
Introduction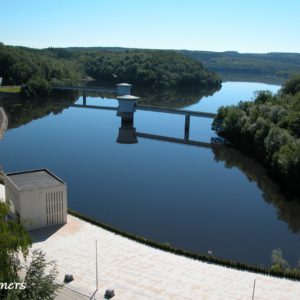 Between 1867 and 1875, this impressive hydro-electric dam was built using granite rock-fill and was the first of its kind in Belgium. Between 1967 and 1971, the project was upgraded and the reservoir storage capacity increased to 26.4 million m³. The lake is fed by the Gileppe, Louba and Soor rivers. Two, 75m  high  intake structures (towers) take water to the penstocks and turbines. A 77m high tower with an elevator is open to the public and provides a panoramic view of the project.
The Gileppe hydroelectric complex has 2 main attractions: the panoramic viewing tower and a large statue of a the majestic lion. The top level (level 2) of the viewing tower is fully enclosed and is accessible to the public. The viewing level also provides access to a restaurant. At the base level of the tower (level 0) a permanent exhibition provides information about the history of the dam and the economic reasons for building the complex in 1875. The famous Lion statue, created by Félix-Antoine Bouré, is the other major attraction. The statue is 13,5m high, weighs 130 tons, and is composed of 183 individual blocks of granite. These pieces fit together like a jig-saw puzzle. The statue was completely disassembled when the dam was reconstructed and re-assembled once the work on the dam was completed. On October 20th, 1971, the new dam was inaugurated  by King Baudouin.
The complex also offers other recreational activities such as hiking, mountain biking (bike rental possible on site), rock-climbing, and an informational trail. Groups visits are also possible, but by reservation only.
To discover this beautiful site, you can walk or bike around the lake (trail 44  with green rectangle trail marker).
For more info:
Tel : +32 (0)87 – 75 56 87
Photo gallery
Address
The dam and lake Gileppe
Route de la Gileppe 55, 4845 Jalhay, Belgique