The old train station of Sart (Sart-Station)
Sart
Introduction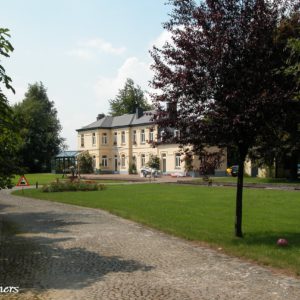 The old train station of Sart (Sart-Station) was built in 1890, the right wing and the house of the signalman only in 1932. The whole site was restored in 1990.
The last
passenger train
stopped here at 
August 1st
1959.
Afterwards
, the
station
still transported important goods, 
especially wood.
The Limburg
coal mines
were a good
customer too.
In 1969,
the goods traffic
also came to an end. 
In March
1974
the track was
broken out between
Spa
and Stavelot
with which
the definitive end of
line
44
was
deployed.
The railway Spa-Trois–Ponts which had been around for more than 30 years was no longer in use, but the old train station of Sart is still known as "Sart–Station". On the front of the building is written "Sart-lez–Spa". Today the building serves  as a holiday home.
Photo gallery
Map
The old train station of Sart (Sart-Station)
Address
The old train station of Sart (Sart-Station)
Station 32 4845 Jalhay, Belgique