RAVel line 44a
Sports and leisures
Introduction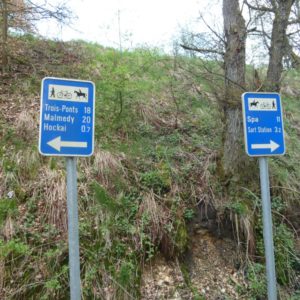 The RAVeL consists of more than 1350km disused railway lines for pedestrians, cyclists, horse riders and people with disabilities! It is a comfortable and secure network.  At local level this represents over 45 routes. These routes are linked to 9 regional routes and 4 international routes, which run across the Walloon territory. Through the RAVeL you can safely discover cities, nature and regional areas. The route from line 44 starts at Sart Station and gently climbs towards the village of Hockai and then through to Francorchamps and Stavelot.
Practical info: Starting point: Rue Sart-Station, along the N640-connection with the RAVeL line 45, close to the (N622) in Stavelot.
Guides/Maps: Map of the Province of Liège. This card, called "RAVel", can be ordered free of charge below. Click
here
.
http://ravel.wallonie.be/home/itineraires/local/ligne-44a.html
Photo gallery
Your opinion
Back
Address
RAVel line 44a
Pré-Ravel Ligne 44a, 4845 Jalhay, Belgique
Website