Lake Robertville
Sports and leisures
Introduction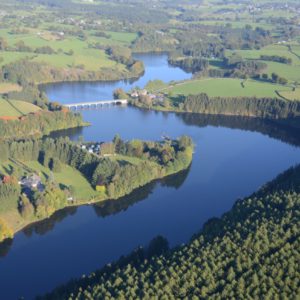 The Robertville lake is in the nature park of the High Fens/Eifel, approximately 5 km north of Waimes. It has a surface area of 620,000 m², and with a depth of 54.5 meters at its deepest point, it has a volume of about 8 million cubic meters.
Different activities can be enjoyed by the lake; for example fishing, mini-golf, canoeing or kayaking, cycling, tennis etc. In this beautiful environment, however, you can naturally also simply stop for a moment or two and enjoy the peace and picnic at one of the places set up for this.
The dam is built as an arch-gravity dam rising up 55 meters over the Warche valley. It was constructed in 1928 with the aim of supplying drinking water to the town of Malmedy and water to drive the power station in Bévercé.
Photo gallery
Your opinion
Back