The Stavelot Abbey
Culture ( museums , exhibitions )
Introduction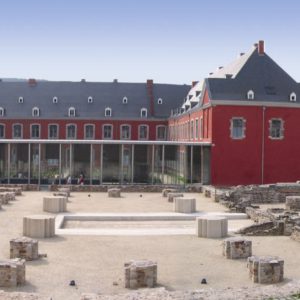 Stavelot Abbey, a magical destination boasting the "5 Suns" quality label! No less than 3 museums await you in the setting of Belgium's oldest monastic foundation.
Principality of Stavelot-Malmedy History Museum. For over a thousand years, the principality has exerted its influence over a territory extending well beyond Belgium's borders. The Principality of Stavelot-Malmedy History Museum offers a modern and fun-filled insight into the Old Régime and includes sounds and images, various objects and works of art, orchestrated using the latest multimedia techniques, together with the "Espace Wibald", portraying a 12th-century Empire priest.
Spa-Francorchamps Race Track Museum. Set inside the abbey's vaulted cellars, this museum tells the story of the "world's finest race track". An exhibition of exceptional vehicles, previously-unseen videos and unusual objects allow visitors to relive the passion of racing, from the pioneers to today's drivers. You're bound to take yourself for a Fangio, Senna or Schumacher after a virtual lap of the Ardennes track!
Guillaume Apollinaire Museum. This museum, with its hushed atmosphere, evokes the poet's stay in the Stavelot region and plunges visitors into the world of the author of the "Chanson du Mal-Aimé". The itinerary introduces visitors to the work of one of the last century's most outstanding figures, as seen through Apollinaire's writings and the eyes of Picasso, Chagall and Cocteau.
Photo gallery
Your opinion
Back